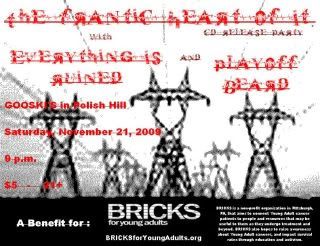 Please join BRICKS next Saturday, November 21st for a benefit show at Gooski's, hosted by local band The Frantic Heart of It. One of the band's members, Doug Weaver, was diagnosed with leukemia earlier this year. Staffski wishes him well and hopes that the efforts of BRICK help other adults suffering through the heartbreak of cancer. From BRICKS Facebook page:
BRICKS for Young Adults = Building Resources In Cancer Knowledge & Services for Young Adults

BRICKS is a non-profit organization in Pittsburgh, PA, that aims to connect Young Adult cancer patients to people and resources that may be useful to them as they undergo treatment and beyond. We also hope to raise awareness about Young Adult cancers, and impact survival rates through education and activism.
You can read more about BRICKS on their site.
The Frantic Heart of It
CD release show
with special guests
Everything is Ruined
Playoff Beard
at Gooski's in Polish Hill
3117 Brereton St, Pgh
Saturday, November 21, 2009
9pm, 21+, $5